Stan Musial - The Man Dead at 92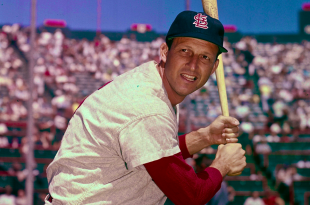 When word broke that
Stan Musial
had died yesterday, I was speechless. By now, you've heard the accolades; three MVP's, three World Series titles, first ballot Hall of Famer, never struck out more than 50 times in a season, et cetera, et cetera and et cetera.
If you've ever looked at his Baseball Reference page, you've been mesmerized by the overwhelming amount of Black Ink there is on there; he led the league in at least one meaningful offensive category every year from 1943-1958, with the exception of 1945, a year he missed to serve our country. His Hall of Fame Monitor score, a
Bill James
tool used to predict how likely it is a person will make the Hall of Fame, is 454 which is higher than any other player in baseball history.
Needless to say, Stan Musial is a true legend of the game.
For as long as I can remember, Hersh has said that Stan Musial is the most underrated player in baseball history; a tough claim to make considering he was a first ballot Hall of Famer but if you look at his numbers, there's no reason for him not to be mentioned among
Babe Ruth
, Willie Mays,
Lou Gehrig
,
Ted Williams
and
Mickey Mantle
as the Greatest of All-Time.
Musial is one of the few players that we chose to represent more than one All-Decade team (he made our 1940 and 1950 All-Decade teams in the outfield and first base, respectively). Our objective has always been to pick the best All-Decade teams while keeping a keen eye on the players that comprise them. In order to paint the best picture of baseball history, in terms of these teams, we've tried to limit player appearances to one team while putting players on the All-Decade teams that suits them best. It's a unique balance between finding the right player for the team and the right decade for the player. The only time we make an exception to that rule is when the player absolutely obliterated the competition... guys that we consider to be among the Greatest of All-Time. Guys like
Carl Yastrzemski
,
Willie Mays
and
Hank Aaron
.
Stan Musial's story of success against the odds is truly remarkable. He started his career as a pitcher and switched to the outfield after an injury to his arm... thank goodness for that arm injury, eh?
He was one of the most revered embassadors of the game and a darling in the St. Louis community. Two statues bear his likeness at Busch Stadium and Stan "The Man" Musial was known to carry autographed cards and pictures on his person at all time (a suggestion by his personal friend, John Wayne).
Stan Musial is certainly irrecplaceable and we are saddened by his loss like the rest of the baseball world. As the Musial family and St. Louis fans mourn his loss today, we offer our sincere condolences and salute one of the greatest players and men the world has ever known.