Angels All-Time Team v.2012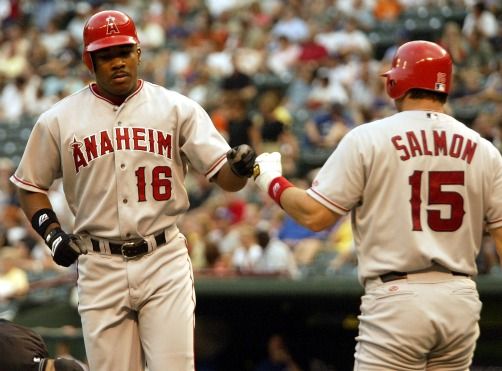 Today, we're looking at the Angels All-Time team, version 2012 (
last year's team can be seen here
).
In addition to our normal review, we added an infielder and two starting pitchers to last year's team to make them congruent with the others we've done so far.
The Angels haven't been around as long as most teams (established 1961) so the team is weak, comparatively but there are a few all-time greats on this team.
Looking at the current roster, it's clear that there are some guys that will have a chance to leave their mark on the franchise.
Mike Trout
is an awesome talent (a Sabermetricians dream-child) and
Albert Pujols
is... Albert Pujols. With the talent they have in LA/Anaheim (adding Josh Hamilton certainly raised the bar), they will be odds on favorites in 2013 (Vegas.com currently has them at 7/1 - tied with the Detroit Tigers for the best odds to win a World Series among all the teams vying for a title).
However, you won't see Albert or Trout on this team. You will see one current Angel on this year's roster -
Jered Weaver
.
Weaver has quietly become one of the most consistent pitchers in baseball. Even last year, when his strikeouts were down, he still managed to win twenty games (boasting an other-worldly 80% W/L percentage) while finishing third in Cy voting. His 128 adjusted ERA is the best in franchise history among starters with at least 20 starts and he ranks fourth in franchise history in wins (first in W/L% among pitchers with at least 50 starts). The other starting pitcher we selected -
Frank Tanana
. This decision was not quite as easy; it came down to Tanana and
Dean Chance
, who won a
Cy Young
in 1964 (the first in franchise history - only
Bartolo Colon
has replicated that feat). We went with Tanana because he had a little more tenure and, although he didn't win a Cy, he had three top ten finishes and three all-star appearances (Chance had one). It wasn't easy and both were good choices.
For the infield position, it came down to
Wally Joyner
and a guy that slipped through the cracks initially (not listed as an infielder) -
Darin Erstad
. We went with Erstad because we felt that he was the right pick to represent the franchise. He split time between the infield and outfield (winning two Gold Gloves in the outfield and one at 1B) and was known as a selfless player... a grinder. He did a little bit of everything and whatever the team needed him to do to win over the course of eleven seasons as an Angel. Joyner boasts a better adjusted OPS (a little higher on base percentage and a little higher slugging percentage) but Erstad compiled 30.4 WAR as an Angel compared to 17.4 for Joyner.
Here's our Angels All-Time team. Tell us what you think.
C -
Bob Boone
1B -
Rod Carew
2B -
Bobby Grich
SS -
Jim Fregosi
3B - Troy Glaus
IF - Darin Erstad
OF - Garrett Anderson
OF -
Vladimir Guerrero
OF -
Tim Salmon
DH -
Brian Downing
SP -
Nolan Ryan
SP -
Chuck Finley
SP - Jered Weaver
SP - Frank Tanana
RP -
Troy Percival