All-Time Teams v.2012 - Atlanta Braves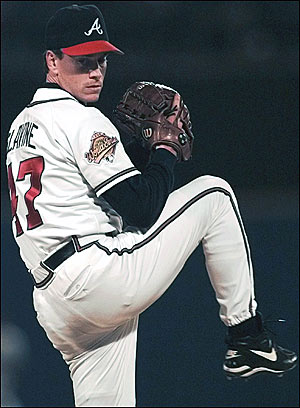 As mentioned, we will be re-evaluating our All-Time teams this month looking for errors, omissions and worthy additions. In addition to that, we are aligning the format of our All-Time by Franchise teams with our All-Decade teams. Every team (both leagues) will have an extra infielder and a fourth outfielder/designated hitter as well as four starting pitchers (which is an increase from two). Aligning the teams will help our readership compare the All-Time teams (by Franchise and Decade) and it should also help us with some things that we have planned in the future (stay tuned).
Today, we are taking a look at the Atlanta Braves and explaining what the process looked like selecting the 2012 team. Last year's selections can be seen
here
.
First, we asked the question, "Have any players on the current team done enough to supplant the incumbent?" For the Braves, that required us to take a close look at
Brian McCann
versus
Joe Torre
. This one was very close as their numbers as a Brave were nearly identical. At this point in McCann's still-active career, Torre has played in 60 more games as a Brave than McCann. Comparing tenure as a Brave, McCann holds an edge in home runs, runs batted in and doubles. Torre holds an edge in hits, runs scored and triples as well as owning better triple slash numbers. Defensively, they were both above average - a slight edge to Torre. In the end, I give the edge to Torre. Had McCann posted a better 2012 campaign, he would likely have a spot on this team but he remains slightly behind Torre at this point, in our opinion.
Next, we tried to see if we might have made any mistakes with our initial team. We looked at the existing roster, including comments that were made and asked whether there was a better choice out there at any position. For the Braves, we feel like we missed with Rabbit Maranville. Although typically regarded as a weak Hall of Fame selection, there is no arguing Maranville's place in baseball history. His lengthy tenure with the Braves made him a better pick than our original selection,
Rafael Furcal
, for this All-Time Braves team.
Next, we filled the extra spots that we had from our original team - we needed to find two starting pitchers, an infielder and a fourth outfielder.
If there was any team that needed those extra starting pitching spots, it was this one. On our initial team, we had to leave off Phil Niekro, who spent 21 years with the Braves and
Tom Glavine
, a sure-thing Hall of Famer. Expanding our rotation allowed us to add Niekro and Glavine, bolstering the back-end of a very strong rotation.
Adding the extra infielder allowed us to add another Hall of Famer in Eddie Mathews. Mathews is one of Hersh's all-time favorites (and one of the most underrated players of all-time).
The fourth outfield spot was the hardest to fill - we evaluated a handful of names that we thought could be good options and we even thought about Fred McGriff (whether we could use him as a DH and get away with it... something we don't typically do) but it came down to Tommy Holmes and Wally Berger. We went with Berger. He was the starting NL center fielder in the inaugural all-star game (one of four all-star appearances for Berger) and found his way onto the all-star ballots in five separate seasons.
So those were our changes - all told, four Hall of Famers were added to this already potent team - I would assume that the Braves All-Time team will be bolstered by this year's changes more than any other team we will see.
Here is the All-Time Braves team, version 2012.
C - Joe Torre
1B - Joe Adcock
2B - Felix Milan
SS - Rabbit Maranville
3B -
Chipper Jones
IF - Eddie Mathews
OF - Hank Aaron
OF - Dale Murphy
OF -
Andruw Jones
OF - Wally Berger
SP - Warren Spahn
SP -
Greg Maddux
SP -
Tom Glavine
SP - Phil Niekro
RP -
John Smoltz