Padres All-Time Team v.2012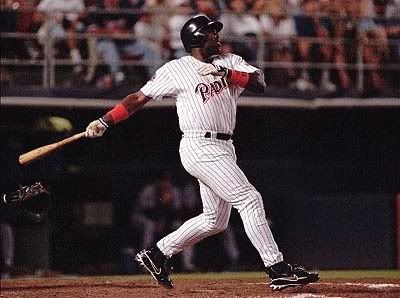 Today we're taking a look at the Padres All-Time Team, version 2012. Last year's selections
can be seen here
.
The Padres haven't been around that long and they haven't had many career long studs so this team is one of the weaker teams we've compiled. Besides
Tony Gwynn
,
Trevor Hoffman
and
Dave Winfield
(who spent time elsewhere), there's not much to get excited about but the Padres are a proud franchise and their fan base is very loyal.
We had to add an infielder, an outfielder and two starting pitchers to last year's team as part of our revamping process.
In the infield, we labored over the decision to leave off Nate Colbert last year so adding him this year was relatively straightforward. We did consider
Steve Garvey
, who has the most memorable moment in franchise history (his heroics in the 1984 NLCS earned him a retired number in San Diego) but when you compare their numbers, Colbert, one of the best power hitters of the early 1970's is the right pick (he's in the team Hall of Fame).
In the outfield, we looked at Gene Richards, who ranks pretty high on the franchise leaderboards but settled on
Ryan Klesko
. Klesko posted a 134 OPS+ over the course of seven seasons in San Diego and led the Padres to back to back NL West titled in 2005 and 2006.
For the starting pitchers,
Eric Show
sort of jumped out immediately; although he doesn't boast a whole lot of hardware, he is the all-time franchise wins leader (100 on the nose). He also posted a respectable 3.59 ERA over the course of ten seasons. After Show, we looked at
Andy Benes
,
Dave Dravecky
and
Bruce Hurst
among others. It was sort of a pick em, but we went with Hurst.
Here's our team. Tell us what you think.
C -
Benito Santiago
1B -
Adrian Gonzalez
2B -
Mark Loretta
SS -
Garry Templeton
3B -
Phil Nevin
IF -
Nate Colbert
OF - Tony Gwynn
OF - Dave Winfield
OF - Brian Giles
OF - Ryan Klesko
SP -
Randy Jones
SP -
Jake Peavy
SP - Eric Show
SP - Bruce Hurst
RP - Trevor Hoffman