Reds All-Time Team v.2012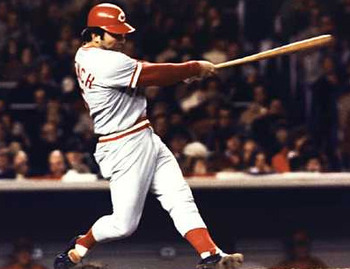 Today we're looking at the Reds All-Timers, version 2012.
You can see last year's team here
.
In addition to our normal review of current players and checking for changes and omissions (based on reader comments and general oversight), we had to add an infielder, an outfielder and two starting pitchers to last year's team. As you are probably well aware by now, we're attempting to make all of our All-Time teams look alike for easy comparison.
Picking the position players was fairly simple - there were a couple guys that immediately jumped out at us. The Reds team is so strong that we had to leave off two players that inked significant chapters in the Reds history books. Expanding the rosters allowed us to add both of these players -
Dave Concepcion
and
George Foster
.
The rotation proved to be very difficult to iron out... so much so, that we enlisted the help of Greg Rhodes, the Cincinnati Reds Team Historian. You can check out Greg's bio from the
Reds Website
below.
Greg Rhodes




Team Historian


A native of Richmond, Ind., Greg Rhodes is a lifelong Reds fan who grew up rooting for the Reds of the 1950s and 1960s, listening to the play-by-play and stories of former Reds announcer Waite Hoyt. Rhodes was named the executive director of the Cincinnati Reds Hall of Fame and Museum when it opened in 2004 and served in that capacity until retiring from the position in July 2007. Rhodes has continued to serve as team historian and remains active in speaking engagements regarding the history of Reds baseball. He is the host of the Reds Hall of Fame highlight moments heard prior to each Reds game on the Reds Radio Network pregame show. He has co-authored six books on the Cincinnati Reds, including Redleg Journal and Reds in Black and White, both winners of the The Sporting News-SABR Baseball Research Award. A former social studies teacher, Rhodes worked for the Cincinnati Historical Society from 1987-'92, helped plan the creation of the new history museum at the Museum Center, served as a former president of the board of Historic Southwest Ohio, been the chairman of the local chapter of the Society for American Baseball Research (SABR) and is past-president of the Cincinnati Red Stockings vintage baseball team.
Mr. Rhodes was gracious enough to reply to an email that I sent asking for his expert opinion. In my initial email, I explained our site, how we select our teams and our dilemma with the Reds rotation.
As you know, we aim to find the players that best represent each franchise, not necessarily the best players. For the all-franchise teams, tenure weighs heavier than prime and we factor in overall impact on the franchise and players that are remembered for key moments in franchise history. We also have a post-1920 rule in place which always seems to come into play selecting pitchers... we only make exceptions for All-Time greats like
Ty Cobb
,
Walter Johnson
and
Honus Wagner
.
In the case of the Reds All-Time starting rotation, we ended up with ten guys that were really good but not great... a couple guys that we felt good about (
Jose Rijo
and
Jim Maloney
) a handful of guys that we didn't really know enough about to make a judgment call. In an effort to get it right, we reached out to the one guy that we knew could help us - Reds Historian, Greg Rhodes. Here's his reply:
Mr. Porter: I just checked your website, looks like a lot of interesting stuff. So, what four Reds pitchers "best represent the franchise," and you say give weight to tenure as well as just their stats... I have no argument with your Rijo and Maloney selections. I would also strongly argue for Bucky Walters. If you want someone to represent the Big Red Machine era, I would pick Nolan. If you want the next best pitcher after Walters, Rijo and Maloney, I would choose Derringer. Walters and Derringer live on in club history, still the best 1-2 punch the Reds ever had and led the club to two pennants and a WS win. Hope that helps.
In the end, we went with Rijo, Maloney, Walters and Nolan. Looking at the numbers and taking into account the fact that Nolan anchored the greatest era in Reds baseball history, we went with him. You can check out the comparison chart below for all of the names that we considered.
Here's our team. Tell us what you think.
IF - Dave Concepcion
OF - George Foster
SP - Bucky Walters
SP - Jose Rijo
SP - Jim Maloney
We considered
Joey Votto
at first base... not yet (had he not had a partial season, we would have considered him a little more strongly). We also looked at
Eric Davis
in the outfield, recognizing that he had some monster years in Cincinnati and
Mike McCormick
but settled on Foster.