Michael Young Retires: Future HOF'er? All-Decade AL 2B?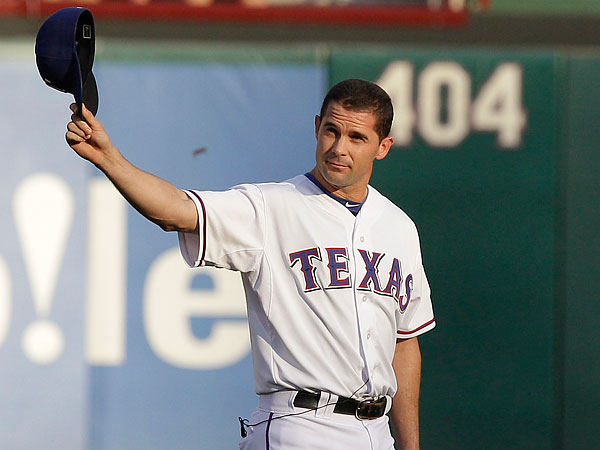 Today,
Michael Young
announced that he would be hanging up his cleats after 14 seasons. He steps away from the game as the Rangers all-time franchise leader in hits and games played. The seven-time all-star, one-time batting champ and Gold Glove winner (SS) was known for his selflessness, durability and versatility. He played significant time at four different positions over the course of his career, often switching positions to accommodate the needs of his team. He was a very good fielder and retires with a .300 batting average, a very impressive feat. We have him on our
All-Time Rangers
team at second base; we (appropriately) placed him at second base to accommodate the needs of the team (we wanted to include
Buddy Bell
, who played 3B almost exclusively). Michael Young - great teammate, great all-around player but Cooperstown-worthy?
Young's Baseball Reference HOF Monitor Score is 112 which suggests that he deserves consideration. Also, the fact that five out of ten players that he is likened to (similarity scores) are Hall of Famers tells you that there are players in the Hall of Fame with similar numbers... but... the eye test and the prime numbers tell you that he's a player more suited for the
Hall of Very Good
and we feel that's the odds of Young getting a plaque in Cooperstown are slim. The consensus here is that Michael Young is not a Hall of Famer.
In addition to the standard HOF exercise, Young's retirement also prompted us to take a look at our
2000's AL All-Decade Team
(a team to which Young was not initially named). There's a good debate here so we'll take a look at it.
Here's a timeline of Young in the decade (2000-2009):
- Young entered the league in 2000, playing only one game that season.
- He spent the next three seasons ('01-'03) with the Rangers at 2B, getting his feet wet, supplying replacement level numbers.
- Young moved over to shortstop for the next four seasons, winning a batting title and earning four all-star nods as a reserve behind
Derek Jeter
. He did earn MVP honors in the 2006 All-Star game, laying claim to one of the more memorable moments in All-Star game history. Young, who had entered the game as a second baseman in the 5th inning, came up to bat in the top of the 9th with the AL squad down by one and runners on 1st and 3rd. Falling behind 0-2, he promptly hit a two-out, two-run, go-ahead triple off of
Trevor Hoffman
(which turned out to be the game winner...
Mariano Rivera
shut the doors as he so often did during his Hall of Fame career).
- Young moved again for the '08 and '09 seasons, this time to third base. While playing third base, Young earned his only Gold Glove award and his only All-Star game start (2008).
In summary, he was replacement level second basemen for a few years before blossoming into a perennial all-star caliber player on the other side of the diamond. His years spent as a second basemen were his weakest BUT he was certainly capable at second base (he was trusted to play that position in an all-star game). His defense was never in question... the question is can we knowingly add him to the 2000's AL squad over
Brian Roberts
, who spend the entire decade at second base?
Cumulatively, irrespective of position, there is little doubt that Michael Young was a better all-around player for the decade and if we were picking teams on the sandlot, Young would get picked ahead of Brian Roberts to play second base (even the most novice manager would make that selection) but when you isolate stats as a second baseman, it's not even close. The fact of the matter is that there are a lot of Hall of Fame caliber shortstops who we'd pick on our fantasy teams to play at second base without much experience at that position but that sort of goes against the spirit of picking these teams, I think.
We initially went with Brian Roberts and made mention to Michael Young as a near miss and I'm not sure we would change our stance but I'd ask you, who would you take for this All-Decade team second base?